Key events
51 min: Arsenal win a free kick after Renard outs in a heavy challenge on Mead. It's quite a way out but Mead plays it back to halfway. It comes to Catley who crosses but Endler collects.
49 min: McCabe puts in a cross but Mead can't get to it. Horan hits a great ball but it doesn't reach a teammate with Arsenal able to clear their lines.
47 min: Another fun fact for you, Arsenal have never defeated Lyon before! Arsenal have started the brighter once more but Foord is pulled back for offside.
Back underway! Lyon 1-3 Arsenal
So can Lyon come back from this or will Arsenal bag a win? If any team can make this one a winner after conceding three at home for the first time in 14 years, it's Lyon.
I have spied a cracker of a fun fact on Twitter, thank you Amee Ruszkai! The last time Lyon conceded three goals at home was November 2008. To say this Arsenal performance is great is an understatement
Have a look at the beauty of a free kick from Beth Mead. She is continuing her flying form and then some for Arsenal:
This is not the only match happening in the tournament tonight. Barcelona are leading Benfica 3-0 at half-time and earlier today Zurich lost 2-0 to Juventus and Bayern Munich defeated Rosengard 2-1.
Strangely there is a half-time interview for Danielle van de Donk who told DAZN: "We are finding it quite hard to press them.. I think second half we will get the press right and play a lot better. I think we have to work a lot harder.
Half-time: Lyon 1-3 Arsenal
Well Charles, if you are reading this, your 1-1 hopeful result has been blown out of the water by your team! Maanum, Foord and Mead have the defending champions quaking in their boots. And just think, Miedema sits on the bench.
45 + 2 min: Wow, wow, wow. She placed that perfectly to go around the wall and it had enough power to beat Endler. Two minutes added here so half-time is not far away.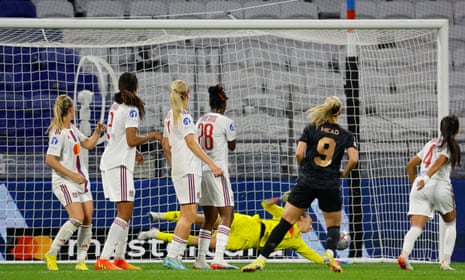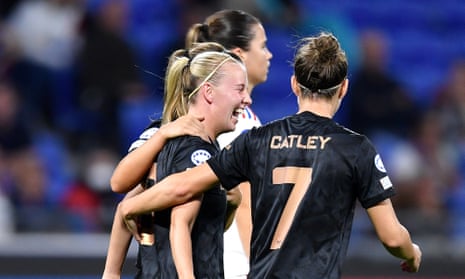 GOAL! Lyon 1-3 Arsenal (Mead, 45+1′)
What a free kick from Mead!!
44 min: But you can never fall asleep against Lyon, Cayman gets a cross into the box searching for Le Sommer but it just misses her head. Renard gets a yellow card for a foul on Blackstenius, the captain is not happy at all with that call. Arsenal have a free kick in a great position
42 min: If Arsenal can pull this off it would end a winning run of 15 on the bounce for Lyon. Arsenal are still the stronger with more possession based play. Maanum gets the ball to Mead in the box but Lyon do enough to clear. Egurrola attempts to get the ball into a good position but it is overhit.
40 min: It's not often you look at an Arsenal team and say they aren't missing Miedema, but right now her expertise aren't needed. Maanum is doing a great job so far, when Miedema is introduced will be interesting in the second half.
38 min: Arsenal are winning the midfield battle at the moment with the forwards making superb runs. There is an early sub with Jaurena off for Egurrola, a tactical change rather than an injury.
36 min: Possession exchanges hands but Arsenal come away with it and Foord makes a great run. The Australian has a touch too many though and her shot at goal is blocked. Here they come again through Mead but Lyon are doing well to defend with Bacha managing to wrestle it back.
34 min: Arsenal are doing enough to smother the Lyon possession so far, running them back to Endler. A beautiful run from Mead threads another Arsenal attack together but they are building from deep.
32 min: Maanum has had a good match so far but her latest attempt floats way wide. Lyon attempt to equalise with Van de Donk steaming into the box but Arsenal crowd them out.
30 min: Henry will remain on the pitch but she is clutching her jaw, that foul from Blackstenius left a sting. Play back underway.
29 min: Who else is absolutely loving this match? Zinsberger couldn't do anything about that with one shot smacking the bar and Malard's touch from the rebound smashing home. Arsenal will be relieved they had a cushion but this game has a long way to go! Lyon have a free kick after Blackstenius fouls Henry, the star has remained on the ground since the foul.
GOAL! Lyon 1-2 Arsenal (Malard, 27′)
Lyon are on the attack here and Walti gives away a free kick after she fouls Le Sommer. They go straight for goal but Blackstenius heads away for a corner. Bacha sends the ball in and Malard's touch is in!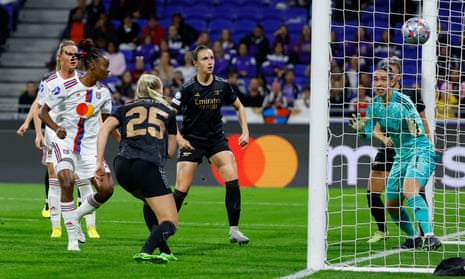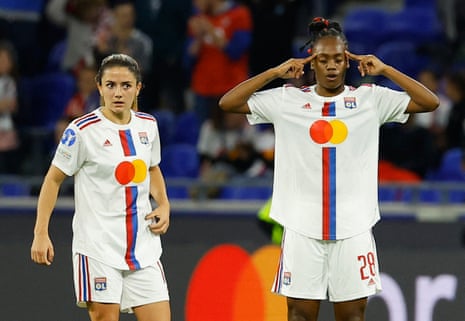 24 min: Lyon looked to have woken up with shots reigning down on the Arsenal goal, even a close header from Renard off the back of a corner. But Arsenal have one counter and a superbly timed run from Blackstenius has the lead doubled. If I was a betting person I would have lost a lot of money!
GOAL! Lyon 0-2 Arsenal (Maanum, 22′)
Okay what is happening? Blackstenius' shot is blocked by Endler but the rebound is scored by Maanum!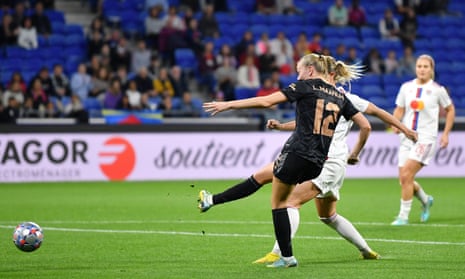 20 min: Henry hits a long range hit but it's blocked by the Arsenal defence, they struggle to clear but eventually bat it away. Eidevall is on his feet and on the touchline, he is getting into this one too! Bacha pops a cross in but Zinsberger collects.
18 min: Catley cuts out a cross from Le Sommer and Arsenal come away to counter. But Foord's pass to Blackstenius sees her play her offside. What a match we have on our hands! Walti has a loose pass and Caymen pounces. She gives it to Le Sommer whose shot sails over the bar, that would have been a shocker for the Arsenal defence if that went in.
15 min: I apologise to Kim Little if that cross in was hers, I was frantically typing as I couldn't believe Arsenal have gone ahead! They do deserve it after this early passage of play, they have brought the fight to Lyon. Now it will be if Arsenal's defence can be as impressive as their attack.
GOAL! Lyon 0-1 Arsenal (Foord, 13′)
Well well! A great cross in from Mead finds Foord who slots home.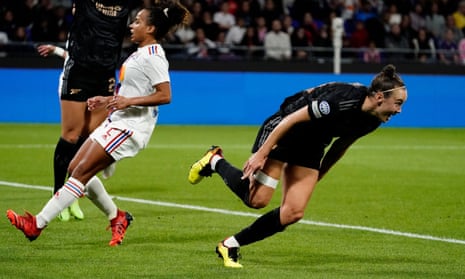 12 min: Arsenal's turn to play out from the back and they win a free kick through McCabe who is fouled. She's down for a minute but thankfully she is back to her feet and okay to continue. Catley takes the set piece and passes back to Zinsberger. The visitors have to build from deep here.
10 min: The ball thunders into the box but Foord can't quite get to it and Endler can clear her lines. Arsenal have had the better chances so far it's just the last pass that isn't coming off. A similar story for Lyon for Le Sommer's header wide once more.
8 min: Lyon are playing out of the back, retaining possession but Endler makes an error with her pass going straight of play. Multiple throw ins from McCabe puts Mead on her first touch of the match but Bacha does enough to wrestle it back.
6 min: Arsenal have retained the lion share of possession but Henry comes away with it after wrestling it back. Malard attempted to cross into the box but she is pressured away. Caymen manages to get the ball in eventually by Le Sommer's header goes wide.
4 min: Charles has got in touch via email and said: "Arsenal fans are not unfamiliar with having a bad feeling about a game, but it seems very justified here; no Leah Williamson, a barely tested back line – and Miedema on the bench. Also – playing Lyon. Candles and votive offerings for a 1-1 draw." I believe Miedema benched is a tactical move so Arsenal could surprise you! Back to the football McCabe looks to pop a ball in the area but she is ruled offside.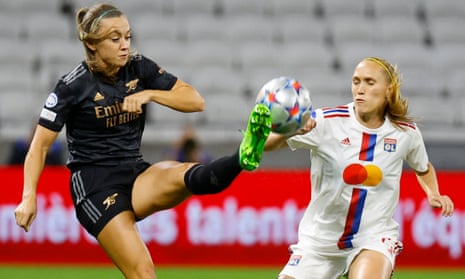 2 min: Renard recovers a ball which almost put Blackstenius through on goal, a bright start for the visitors so far. Foord then puts the Swede through once more and Endler has to save her effort.
Kick-off! Lyon 0-0 Arsenal
The atmosphere is electric with the crowd, despite the attendance slightly low, ready to witness a great match!
The players will soon be out on the pitch and ready to go! Will Lyon claim the victory or can Arsenal cause an upset?
We are less than 15 minutes away from kick-off so get your snacks and drinks ready, the thriller is about to commence! I have Doritos and coke, not the healthiest combination I know.
There's a reunion for Arsenal this evening as their players have greeted their former teammate Danielle van de Donk, have a look:
Arsenal manager Jonas Eidevall has given a glowing review of his forward Beth Mead in the build-up to the Lyon clash. "She has started this season in very good form," Eidevall said. "Her ability to perform at this level, it is so important to have players like that. I know the goals and assists she provides are world class, but I see other things in her as a person and a player that are great. When we lose the ball or in second-ball situation, she is the quickest player I have ever seen to be first to that ball."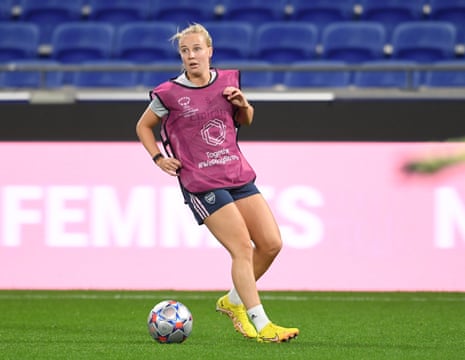 Lyon captain Wendie Renard is ready for the challenge presented to them this evening and is prepared to get the better of Arsenal, saying: "Arsenal are a good team. It will be up to us to do the job on the pitch and be together. It's the start of a competition that we love so much. It will be difficult but we will have something to answer."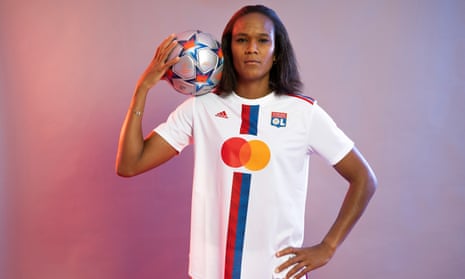 How do you fancy Arsenal and Chelsea's chances in the Champions League this season? English clubs have struggled in this competition with the closest chance to one winning coming in the 2020/21 season when Chelsea were beaten 4-0 by Barcelona in the final. Our very own Louise Taylor has written about the task ahead for the two English clubs, have a read here:
I was having a discussion with a friend earlier around what we prefer, domestic football or European. It was a tricky decision and I wimped out slightly as I said I prefer the knock-out stage of European football to domestic so I kind of skated around the topic. Which do you prefer and why? Let me know via Twitter, @rendellx, or email.
Lyon have their injury problems but they still have a whole host of stars. Wendie Renard, Daniella van de Donk and Lindsey Horan all start for the defending champions.
Lyon starting XI: Endler, Jaurena, Renard, Sombeth, Bacha, Henry, Van de Donk, Horan, Cayman, Le Sommer, Malard.
Arsenal, meanwhile, have rotated their squad with Frida Maanum getting a start and Vivianne Miedema benched. If the Dutchwoman features this evening she will make her 150th appearance for the club.
Arsenal starting XI: Zinsberger, Wienroither, Wubben-Moy, Catley, McCabe, Little, Walti, Maanum, Mead, Blackstenius, Foord.
Hello and welcome back to our coverage of the Women's Champions League! What a match we have on our hands this evening with Arsenal travelling to French giants Lyon.
Lyon have won the Champions League eight times, including a five season consecutive trophy-winning streak, and they are the defending champions. Arsenal, meanwhile , have only won the trophy once back in the 2006/07 season. They are they only English club to claim the silverware but they will head into the group match as underdogs.
They will look to forwards like Vivianne Miedema and Beth Mead to get them over the line but with defenders like Wendie Renard it will be tricky to get a goal past the French club.
The line-ups will be released soon so stay tuned to see which stars are included, kick-off is coming at 8pm BST.