Ghosts and bones and ominous metamorphoses make Maria Bartushava a strange discovery. Born in Prague in 1936 and spending most of her adult life in the now-defunct state of Czechoslovakia, this artist made wildly experimental art under the noses of the Communist authorities, even receiving government support for her outlandish creations, but with no real connections to the Western art world. . Even now, she remains an enigma – the catalog has difficulty telling about her life in any but the most superficial terms. But her sculpture is confusing, as are the stories of her Prague ancestor Franz Kafka.
Much of the art in Bartuszova's Tate exhibition is made from plaster of paris, something she could sculpt cheaply and easily when she was a young mother working at home in the 1960s. She had an idea when it was necessary to combine creativity with caring for small children. She began using children's balloons to cast her sculptures. The elastic shapes of balloons freed up new kinds of artistic form – inflated and convex, hollow and ovoid, carnal and erotic: anything but geometric and ideal.
The results are surprisingly fascinating. You dream among layers and mazes of broken shells that look like a nest left by a creature in An alien. There are landscapes of unbaked doughnuts, white deformed planets hanging in the air. It is an enchanted, magical art that creates new worlds out of subtle means. I wish I could touch it, but Bartushava really created art that needs to be touched: a series of black-and-white photographs depicting workshops with blind and partially sighted children, for whom Bartushava created organic forms that she described as "grains of wheat, dewdrops and so on next" is meant to be learned by hand. Children look delighted and excited as they pick up these unexpected items.
Grains of Wheat and Drops of Dew – an activity for visually impaired children – is a representation of how she saw her art. Bartushova's curves, lines, spindles and splashes are intended to indicate the natural world. She admired early 20th century artists such as Brancusi, Miró and Henry Moore who transformed natural forms into abstract art. But this modern tradition of "biomorphic abstraction" undergoes a perverse, messy rebirth as the balloons pass through it. Her organic forms are disordered and disorienting.
Some of her work would be out of place on display, in those quaint early museums that brought together exotic corals, ostrich eggs, coconuts and unicorn horns, whatever her art has to offer. One of the most famous was created by the Habsburg Emperor Rudolph II in Prague Castle. Bartushava created a series of geological patterns in the 1980s, using stone and plaster to fit into them. Pieces of stone are pushed aside by wide growths of white plaster. Like organic eruptions perforating the mineral fabric of the earth, these white forms split and segmented the rock, their living worm-like and egg-like forms petrified within it.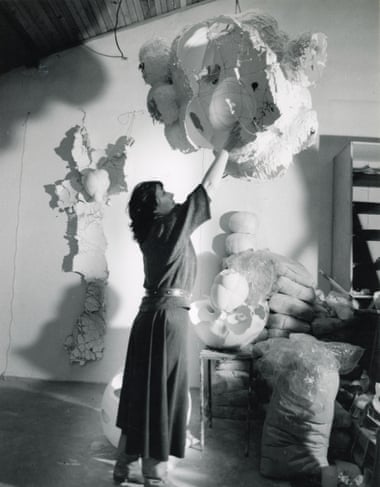 These freaks of nature undermine the "scientific" Marxist view of the Soviet empire, which existed in the last years when they were formed by Bartushava. Nature in her art is unrecognizable, uncontrollable, chaotic. Life erupts and shatters like a giant egg cracking under its own weight. This disturbing but life-affirming vision has much in common with Czechoslovak surrealist dissidents such as the director Jan Schwankmeyer, who created his own cabinet of curiosities. However, Bartushava did not become part of an overtly dissident or censorious movement – ​​which may be one of the reasons why she has not become better known in the West. After graduating from an art college in Prague, she lived in Kosice in what is now eastern Slovakia and worked within the rules of communist society on public art for schools, playgrounds and a huge socialist non-religious crematorium.
A photograph of her sculpture near the crematorium in Košice shows the desperate struggle of art against death. The vast functional architecture of the crematorium looms like a square hood of nothingness, engulfing people in its black void. In front is one of Bartushova's whimsical figures, greatly enlarged: a smiling white, chubby creature. "Metamorphosis" – this is the name of Kafka's most famous story about the mystery of being – is an image of elemental resilience. Our atoms go on, this colossal core suggests. And this great artist survived the lost society in which she lived.