The star economist was never directly elected, but won the support of almost all political parties when he took office in February 2021 and raised Italy's status on the international stage as a respected leader in the European Union and the G7.
He was tasked with dealing with the coronavirus pandemic and the effects of the recession, as well as overseeing utilization plans an unprecedented EU recovery fund billions of euros to stimulate growth in the country.
FOOD: What will happen next with the Italian government crisis?
Riding on his soaring personal popularity and the trust of Brussels and the financial markets, Draghi was seen as the best choice to revive a stagnant economy plagued by structural inefficiencies and heavy bureaucracy through structural reforms long delayed by infighting and inertia.
But with elections due next year, the parties in his coalition have grown increasingly uneasy, and Draghi's stern warnings to stop playing political games have fallen on deaf ears.
Three parties in his coalition on Wednesday refused to participate in the vote of confidence, pulling the plug on the government.
Dear submitted a resignation letter to Italian President Sergio Mattarella on Thursday morning.
Basketball and banking
Born in Rome on September 3, 1947 to a well-to-do family, Draghi lost both his parents as a teenager, leaving him to care for his two younger siblings.
In his youth, he was never a rebel, even if he sympathized with the protest movements of 1968. "My hair was quite long, but not very long," he told German magazine Die Zeit in 2015.
Widget Manual for ML (class="ml-manual-widget-container")
Draghi was educated at an elite Jesuit high school where he excelled in maths, Latin and basketball and shared lessons with the likes of former Ferrari boss Luca Cordero di Montezemolo.
Draghi, who is married with two children, remains a practicing Catholic.
In 1970, Draghi graduated as an economist with a thesis arguing that the single currency "is stupid, something that absolutely cannot be done" – a view that later changed when he became one of the strongest supporters of the euro.
He received his PhD from the prestigious Massachusetts Institute of Technology (MIT) in the USA and taught economics at several Italian universities.
After spending six years at the World Bank from 1984 to 1990, he headed the finance department at the Italian Ministry of Economy for ten years, serving under nine different governments.
From this position, Draghi orchestrated large-scale privatization and contributed to deficit reduction efforts that helped Italy qualify for the euro.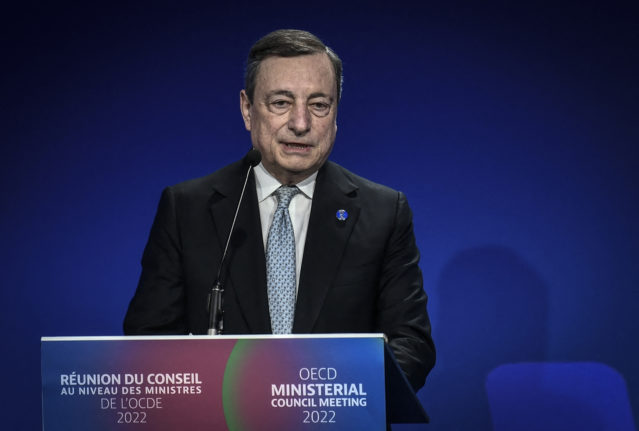 No "ridiculous compromises"
In 2002, Draghi joined the management of Goldman Sachs, and three years later was chosen to lead the Bank of Italy after a scandal with its former head, Antonio Fazio.
He was appointed head of the European Central Bank (ECB) in November 2011, when Italy's near-bankruptcy situation could have caused the collapse of the entire eurozone.
A year later, Draghi changed the story, promising to do "whatever it takes to save the euro," adding: "And believe me, it will be enough."
He was credited with saving the single currency. However, this bailout came only thanks to massive cash infusions and historically low interest rates, angering conservatives, especially in Germany.
People who saw "Super Mario" at the ECB say he was a skilled negotiator with sharp political antennae and willing to play "bad cop" to sway decisions in his favor, a former aide told AFP.
Draghi is someone who does not accept "ridiculous compromises" to preserve consensus, the aide said.
After leaving the ECB in 2019, Draghi has gone quiet and spent most of Italy's coronavirus period at his country house in central Umbria.
He was appointed to lead Italy by President Sergio Mattarello after the previous government of Giuseppe Conte collapsed in January 2021.
He was tipped to succeed Mattarella in parliamentary presidential elections earlier this year, but Mattarella was eventually recalled for a second term after lawmakers failed to agree on anyone else.