"Wow, wow! Here you go! » (Well, well! There is no beach here!) Famous Spanish song of the 80's Frescoes says, mocking the fact that Madrid is one of the Spanish regions furthest from the coast.
But madrileños in the end they can laugh, because it is planned to build the largest artificial beach in Europe.
It is just a half-hour drive from the capital in the municipality of Alovera in the province of Guadalajara, which is technically located in the region of Castile-La Mancha, but Madrid has already recognized Alovera beach as its own.
A mega-project is underway, which requires more than 15 km2 of sand and 25 km2 of water.
Manual widget for ML (class = "ml-manual-widget-container")
The entire beach complex will have an area of ​​105,000 m2 and will have a huge lagoon as well as the adjacent sandy area.
Alovera Beach will be the largest man-made beach in Europe. Photo: Alovera Beach
In the sandy area it is planned to place several beach bars, hammocks for relaxation, beach volleyball courts and an outdoor gym, and in the lagoon area it is planned to do water sports, sailing school, slides, water gutters, rulers and smaller. swimming pools for children.
But not everything went smoothly. The project, created in collaboration with the American company Crystal Lagoons, has been halted several times, in part because of its enormous size, political debate and the huge cost of labor, which costs about 15.6 million euros.
It is reported that the goal is to create about 350 direct and indirect jobs and receive between 250,000 and 400,000 visitors a year.
While some Spanish political parties – PP, Ciudadanos and Vox – are in favor of the beach, others, including PSOE and Unidas Podemos, oppose it, arguing that the lagoon area will be filled with drinking water taken from local supplies.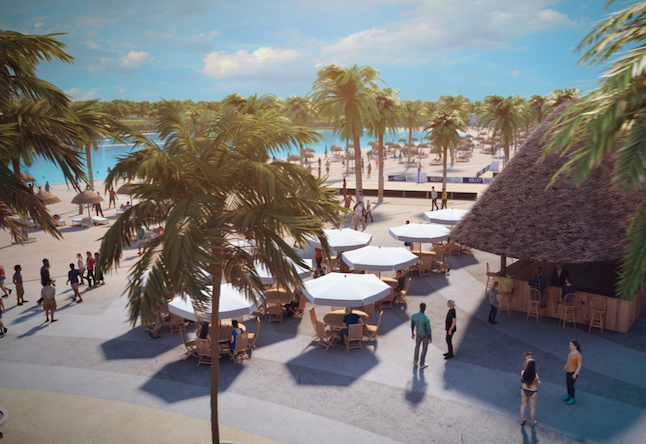 The terrace will be filled with restaurants and renting. Photo: Alovera Beach.
In their defense, the builders of Alovera Beach clarified that the amount of water is similar to the annual consumption of 80 houses, but with the difference that the lagoon will be filled only once.
They also said it will consume half as much water as conventional park irrigation, and 40-50 times less than the maintenance of a golf course, and will use 100 times less chemicals than conventional swimming pools.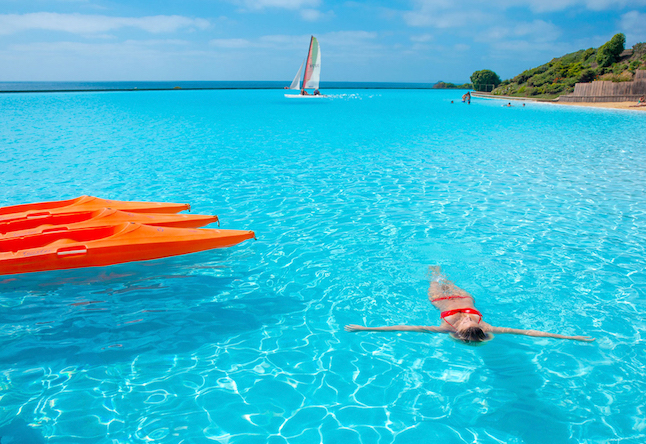 The huge lagoon will have an area of ​​25 km2. Photo: Alovera Beach
To strengthen their commitment to sustainability, Crystal Lagoons and Alovera Beach will also create a large natural park that surrounds the complex to promote biodiversity in the area.
Those in Madrid who can't wait until 2023 to complete the project should visit Awarded the Blue Flag Virgen de la Nueva beach on the shores of the San Martin de Valdeiglesias Reservoir.